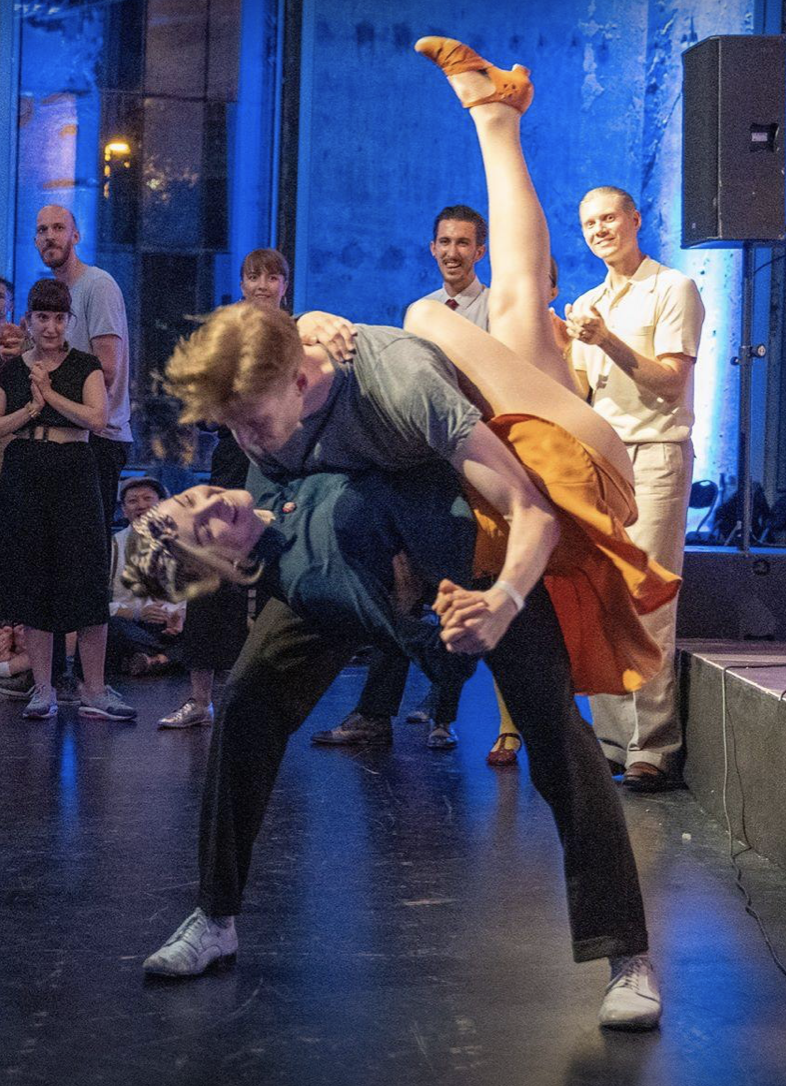 Introduction to Lindy Hop, Workshop by Tanja & Kay
Tapahtuman ajankohta
Sunday, 26. January 2020,

14:00

to

17:00
Lönnrotinkatu 25 A, 2. kerros, 00180 Helsinki, Finland
In this workshop we will give you a fast introduction to Lindy hop taking your previous dance background into account. Expand your movement bank and get inspired!
During the three hours we will work on the essential rhythms used in Lindy hop as they are anchored in Jazz music, find ways to connect our movement with a partner, create patterns together and how we can create variations.
Everybody in this workshop will lead and follow.
This workshop is specifically meant for dancers with a background in modern street dances. Open level / no prior Lindy hop experience is needed
Time:
26.1. Sunday, 14.00-17.00
Place: Saiffa - Flow Mo Dance School
Lönnrotinkatu 25 A, 2nd floor
00180 Helsinki
Price: 25 €
Book your place here, max 25 people on the workshop:
--> https://www.wodconnect.com/saiffa-flow-mo-dance-school/seminars/6159
(Saiffa membership price 20€, register with and email at info@saiffa.fi)
The teachers
Kay:
Kay was first introduced to Lindy Hop in Bern, Switzerland. Soon after, he moved to Stockholm, which is where he truly discovered his passion for this dance. Taking as many classes as possible, and social dancing as often as he could, Kay developed his own style of Lindy Hop, influenced by the vibrant Swedish Lindy spirit. Now residing in Utrecht, Netherlands, he has been an instructor for Swing in Utrecht and Lindy What! Nijmegen for the past couple of years. In his teaching, Kay tries to take the best of these different Swing scenes that he has been part of and tries to pass this knowledge on to his students. In his dancing, he always strives to find a balance between being a supportive partner, creating and developing ideas together, and expressing his own individual style. Kay can be easily spotted on the dance floor because of his athletic dance style and his happy demeanour.
Tanja Wingerter
Tanja started dancing Lindy hop in Ljubljana, Slovenia and continued during consecutive exchanges in Montpellier and Madrid. After her stays abroad she started inviting teachers to Finland and teaching herself and in 2017 she co-founded Black Pepper Swing. Nowadays she teaches local classes in Helsinki four days a week, travels and competes and attends and teaches workshops. Her style is often described as elegant, yet playful. She strives to maintain a strong bound with the musical and historical foundations of the dance, as well as to find more dimensions in the ways we connect and interact in Lindy hop.